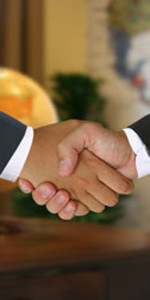 A collaboration between the Diamond Development Initiative International (DDII) and Responsible Jewellery Council (RJC) is aiming to help the world's 1.5 million artisanal diamond miners.
 
The two groups have signed a memorandum of understanding (MOU) to work co-operatively to advance their shared objectives.
The news comes following a similar announcement last month of an MOU between the RJC and Alliance for Responsible Mining (ARM) to benefit artisanal and small-scale miners.
"[Artisanal diamond miners] and their families will benefit from the improved working conditions and standards that are DDII's objectives, objectives that will be enhanced by our collaboration with the Responsible Jewellery Council," said DDII executive director Dorothée Gizenga.
The MOU includes harmonization of the groups' standards; RJC will provide input on DDII's advisory group, while DDII will do the same on RJC's consultative panel and standards committee.
Additionally, the groups will develop projects to support artisanal diamond miners to improve social, environmental, and labour practices, as well as good governance in artisanal diamond mining. One initiative is the creation of a support fund to help artisanal miners make the transition to formalized and certified workers.
"RJC is delighted to formalize the relationship between our two organizations," said RJC chief executive officer (CEO) Michael Rae. "By working together, DDII and RJC will reinforce our efforts to improve responsible business practices throughout the jewellery supply chain and enhance the lives of artisanal diamond miners and their communities."