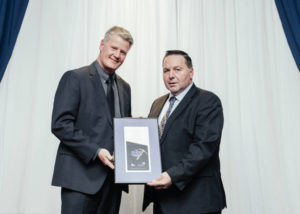 De Beers Canada's economic and environmental contributions earned it honours at the Mining and Exploration (MAX) Awards Gala on November 22. The event marked the end of the 46th annual Yellowknife Geoscience Forum.
De Beers was recognized directly with the 2018 Northwest Territories (NWT) MAX Economic Leadership Award, thanks to its gross value add (GVA) of $2.1 billion to the Northwest Territories economy. That number is expected to increase by another $5.3 billion over the course of the Gahcho Kué mine's life. To date, De Beers has contributed more than $7 billion to Canada's economy.
"Our strategy is based on the fundamentals of being a trusted corporate leader, creating thriving communities, and operating in and leaving behind a healthy environment," said Allan Rodel, general manager of Gahcho Kué, who accepted the award. "Our ambition is to build upon our first 50 years in Canada and be the most innovative and sustainable diamond-mining business in Canada."
The company has already taken some steps toward sustainability. The Gahcho Kué mine comprises one part of Ni Hadi Xa, an environmental monitoring agency that also includes five Northwest Territories Indigenous communities. The agency was recognized at the gala with a second accolade: the Environmental & Social Responsibility Award.
"Through their contributions and commitment to sustainable, responsible development, the people and businesses we will honour this evening have made lasting contributions to our territory," said Wally Schumann, the Government of the Northwest Territories' Minister of Industry, Tourism, and Investment.