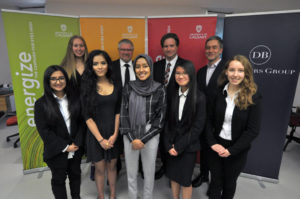 Scholarship options for Canadian women in science, technology, engineering, and math (STEM) are expanding thanks to an initiative from De Beers Group. The company has teamed up with Scholarships Canada to add new funding opportunities to its existing roster as part of its three-year partnership with United Nations (UN) Women.
Through this new alliance, De Beers will provide nine entrance scholarships to full-time female students working toward STEM undergraduate degrees at any Canadian postsecondary institution. The scholarships are renewable for two years according to student performance and will launch in 2019.
A particular goal of the program is encouraging STEM education among Indigenous women from the Northwest Territories (NWT), northern Ontario, and Nunavut, where De Beers operates.
"We are very excited to be working with De Beers and the United Nations Office for Project Services (UNOPS) on this scholarship program," said Chris Wilkins, CEO of the SchoolFinder Group | EDge Interactive. "Our scholarshipscanada.com database has over 100,000 scholarships, but very few are designated for Canadian female students interested in STEM programs."
The scope of De Beers' available scholarships has also been expanded to include programs such as nursing, medicine, accounting, information technology (IT), and business management.
"By expanding the STEM-related course selection this year, we believe it will be a win-win for both the applicants and their communities, potentially providing new or enhanced capacity in some communities that may not currently exist," said Kim Truter, CEO of De Beers Canada.
The company is also continuing to grow its existing partnerships with the University of Waterloo and University of Calgary. Two one-year entrance scholarships were granted at Waterloo this year, with six being awarded at Calgary.
Both schools will award six more De Beers scholarships this coming September and the program will continue to expand over the coming years. By 2021, the University of Waterloo will have granted 16 scholarships in total, while the University of Calgary will have given out 24.
These initiatives support De Beers' goal of contributing more than US$600,000 in Canada by the end of 2020.