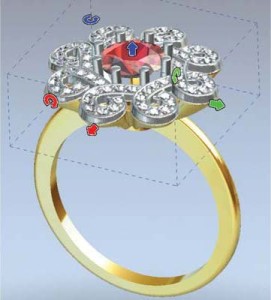 Delcam is launching its new ArtCAM JewelSmith CADCAM software at the 2015 ArtCAM User Group Conference in Nashville, Tenn.
The 2015 R2 version helps build support structures for 3D printing. It also increases accuracy by the addition of rulers in the 3D view to make it easier to create precise artwork and to position the various elements of the piece.
In addition, the software's ability to overlap and intersect design elements has been enhanced with a new option to interactively blend reliefs. This allows relief clipart to be pulled up or pushed down in the Z-axis to blend better with another 3D design. 
Demonstrations will be shown on the Ember 3D printer by Autodesk. The conference takes place Oct. 1 to 3 at Nashville's Inn at Opryland.
For more information, visit www.artcam.com/jewelsmith.