Design, community celebrated at Couture
September 7, 2021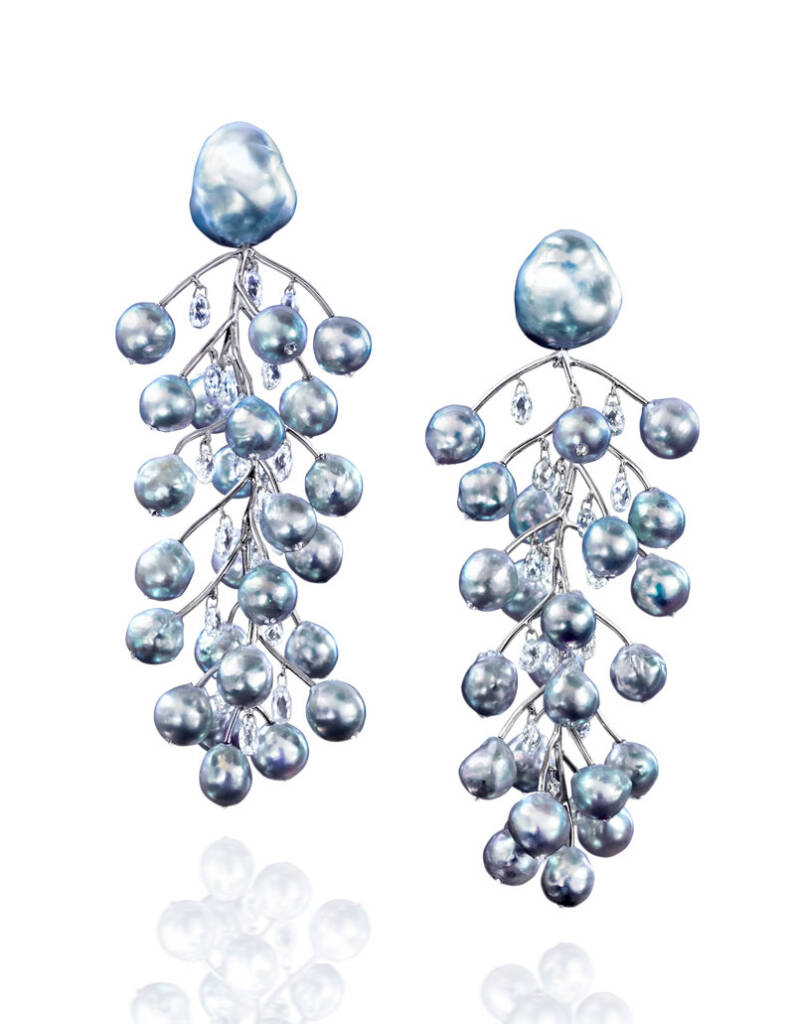 Fourteen brands and individuals were recognized at this year's Couture Design Awards, which were presented August 25 in Las Vegas.
"While I obviously wasn't at the first Couture, I've heard all the stories," said show director, Gannon Brousseau, during the event's opening. "I'm told it was an intrepid band of misfits who came together to define the industry, united by a shared love of beauty and design and a deep appreciation for one another. What I see here tonight reminds me a lot of those stories. All of you, against all odds, coming together, believing in this event, believing in each other, and showing up, because this is Couture and that's what we do."
This year's Cindy Edelstein Award, which recognizes enthusiastic and inspirational leaders in the fine jewellery community, was presented to Larry Pelzel, vice-president of Neiman Marcus and a 40-year veteran of the industry.
The winners and finalists of the 12 primary categories were selected by a panel of judges, while the Editors' Choice and People's Choice awards were voted upon by attending media and retailers.
Among this year's winners was Lauren Godfrey of Harwell Godfrey, who took home the award for Best in Colored Gemstones under $20,000.
"This is a career that I love so much," she said from the stage. "I love these stones, and I love this work. You have embraced me, and I feel the love here. I appreciate it so much."
Other top winners include:
Best in Bridal—Retrouvai;
Best in Colored Gemstones (above $20,000)—VRAM;
Best in Diamonds (above $20,000)—Sutra;
Best in Diamonds (below $20,000)—Ondyn;
Best in Debuting—Elsa Jin;
Best in Gold—Mariani;
Best in Haute Couture—Lotus Arts de Vivre;
Best in Innovative—Studio Renn;
Best in Men's—ArtyA;
Best in Pearls—Assael; and
Best in Silver—Tane Mexico 1942.
Also:
Editor's Choice (voted on by editors at Couture)—BAYCO (runner-up in the Diamonds Above $20,000 category); and
People's Choice (voted on by the audience via text at the awards)—Assael (winner of the Pearls category).
For a complete list of this year's winners, click here[2].
Endnotes:
[Image]: https://www.jewellerybusiness.com/wp-content/uploads/2021/09/PEARLS-AND-PEOPLES-CHOICE_FIRST-PLACE-Assael-1.jpg
here: https://thecoutureshow.com/show/design-awards/
[Image]: https://www.jewellerybusiness.com/wp-content/uploads/2021/09/Bridal_FIRST-PLACE-Retrouvai.jpg
[Image]: https://www.jewellerybusiness.com/wp-content/uploads/2021/09/COLORED-GEMSTONES-ABOVE-20K_FIRST-PLACE-Vram.jpg
[Image]: https://www.jewellerybusiness.com/wp-content/uploads/2021/09/COLORED-GEMSTONES-BELOW-20K_FIRST-PLACE-Harwell-Godfrey-1.jpg
[Image]: https://www.jewellerybusiness.com/wp-content/uploads/2021/09/DIAMONDS-ABOVE-20K_FirstPlaceSutra.jpg
[Image]: https://www.jewellerybusiness.com/wp-content/uploads/2021/09/DIAMONDS-BELOW-20K_FIRST-PLACE-Ondyn.jpg
[Image]: https://www.jewellerybusiness.com/wp-content/uploads/2021/09/DEBUTING_FIRST-PLACE-Elsa-Jin.jpg
[Image]: https://www.jewellerybusiness.com/wp-content/uploads/2021/09/GOLD_FIRST-PLACE-Mariani.jpg
[Image]: https://www.jewellerybusiness.com/wp-content/uploads/2021/09/HAUTE_FIRST-PLACE-Lotus-Arts-de-Vivre.jpg
[Image]: https://www.jewellerybusiness.com/wp-content/uploads/2021/09/INNOVATIVE_FIRST-PLACE-Studio-Renn.jpg
[Image]: https://www.jewellerybusiness.com/wp-content/uploads/2021/09/MENS_FIRST-PLACE-Arty-A.jpg
[Image]: https://www.jewellerybusiness.com/wp-content/uploads/2021/09/PEARLS-AND-PEOPLES-CHOICE_FIRST-PLACE-Assael.jpg
[Image]: https://www.jewellerybusiness.com/wp-content/uploads/2021/09/SILVER_FIRST-PLACE-Tane-Mexico-1942.jpg
[Image]: https://www.jewellerybusiness.com/wp-content/uploads/2021/09/EDITORS-CHOICE_WinnerBayco.jpg
Source URL: https://www.jewellerybusiness.com/news/design-community-celebrated-at-couture-2/
---