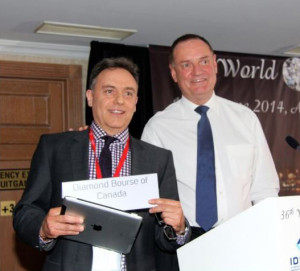 The Diamond Bourse of Canada (DBC) has been inducted into the World Federation of Diamond Bourses (WFDB).
DBC president David Gavin accepted the honour from WFDB president Ernie Blom on behalf of the Diamond Bourse of Canada, which becomes its 29th bourse.
"It is humbling to be included into the fold of the World Federation and to stand alongside so many bourses from around the world, some rich with tradition, others rich in membership," Gavin said in his acceptance speech.
"It is even more meaningful for me personally. I come from a line of diamantaires, third-generation to be exact. My late grandfather was born in Amsterdam and was later apprenticed at the age of 16 in Antwerp to learn the art of diamond polishing.
"I accept this nomination on behalf of the Canadian diamond industry that truthfully is still in its infancy. Although Canada now ranks third in the world as far as production, it is still relatively young in the business, if one is to compare it with Belgium, Israel, India, or South Africa. We don't see this as a negative, as we believe we are the way of the future in our industry."
WFDB members approved applications at the 36th World Diamond Congress in Antwerp, a bi-annual meeting of WFDB and the International Diamond Manufacturers Association (IDMA).