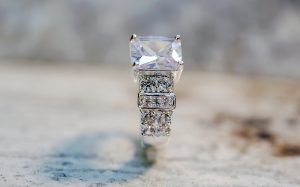 Diamond prices continued to soften during the quieter summer period, reports Rapaport in its diamond index for August. Factors such as the closure of bourses in Belgium and Israel caused prices for 0.30-, 0.50-, and one-carat diamonds to fall by 0.9, 0.1, and 0.5 per cent respectively.
Rapaport also noted the upcoming Hong Kong Jewellery & Gem Fair as a consideration with the potential to affect diamond prices. The outlook for the show is uncertain given trade tensions between China and the United States, a weaker Chinese yuan, and an atmosphere of caution among Hong Kong jewellers.
Due in part to this caution, smaller, lower-value diamonds are experiencing a drop in demand, while the market remains strong for high-quality SI diamonds. Larger gems continue to perform fairly well, with three-carat diamonds increasing in price by 0.2 per cent in August. The year-to-year numbers for all four diamond sizes assessed remain strong as well, with the following results emerging:
an increase of 6.7 per cent for 0.30-carat diamond prices;
an increase of two per cent for 0.50-carat diamond prices;
an increase of one per cent for one-carat diamond prices; and
an increase of 0.9 per cent for three-carat diamond prices.
Spirits remain high as we head into the holiday shopping season, with positive earnings results from both Signet Jewelers and Tiffany & Co. keeping U.S. retailers particularly optimistic.