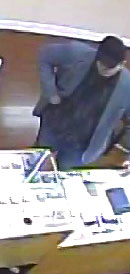 Police and Jewellers Vigilance Canada (JVC) are warning retailers to be on the lookout for a man wanted in connection with a diamond switch.
According to York Regional Police, a man booked an appointment with a jewellery store in Newmarket, Ont., on Sept. 12 to look at two loose diamonds. Before leaving, the suspect made a cash deposit of $1000 for one of the stones, as well as a ring. A staff member preparing to send the stone out for mounting discovered it had been switched for a zircon.
The man is described as a white male with dark hair, 35 years of age, 5'10", and 230 lbs.
The stolen diamond is a 4.01-carat, round brilliant measuring 10.06-10.1 x 6.28 mm with S12 clarity and F colour.
Anyone with information is asked to contact Detective Constable Scott Hunter (badge number 1066) at York Regional Police Service at (905) 830-0303, ext. 7144, or JVC's crime analyst desk at jvc@brucetelecom.com, referring to police file #12-262389.