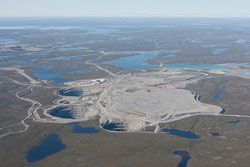 The deal for Dominion Diamond Corp. to buy the Ekati Diamond Mine from BHP Billiton is now complete.
Ekati's purchase and the sale of the Harry Winston jewellery and watch division to Swatch Group for $750 million now makes Dominion (previously Harry Winston Inc.) the fourth largest diamond producer in the world by value.
The $553-million deal for BHP Billiton's 80 per cent stake also includes the associated diamond sorting and sales facilities in Yellowknife, Canada, and Antwerp.
The price includes adjustments of $13.4 million US for interest on the purchase since July 1, 2012, and the remaining amount comprises taxes, capital expenditures, and other items funded by BHP since July 1, 2012.
"We are very pleased to be able to bring our northern mining background and diamond marketing skills to bear on a project that is well-constructed, well-operated, and well-endowed with resources that represent a promising future for shareholders, employees, and northern stakeholders," said Dominion chair and chief executive officer (CEO), Robert A. Gannicott.