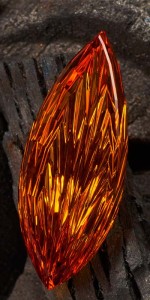 U.S. gem cutter John Dyer has taken first place at the 46th German Award for Jewellery and Precious Stones Idar-Oberstein 2015.
Entitled 'Internal Fire,' the winning piece is a red/orange Brazilian citrine weighing 88.17 carats cut to meet the competition's theme of 'Light My Fire.'
Gems are judged primarily according to design, while concept, realization of the theme, and quality of craftsmanship are also considered.
The competition—which is held every two years—is considered one of the most prestigious gem-cutting awards due to the reputation of Idar-Oberstein as a major centre for designer gem cutting.
"The theme 'Light My Fire' didn't immediately suggest anything to me so I prayed, asking God for inspiration about what to cut," said Dyer, a contributor to Jewellery Business.
"From there on, it was an unfolding process. It seemed to me an orange gem would go well with 'fire.' With this in mind, I searched through my stock of rough and one deep orange citrine stood out. Once I had ground it clean, it was indeed a flame shape and so the process of cutting the gem was begun. In spite of having the flame shape, it was still a challenge to decide what to do with the underside of the gem to make it look like fire. Then an idea came to me to execute a pattern I had never done or seen before. This required an adaptation of my existing machinery and techniques. This gem was also an experiment to test this technique and pattern for the first time."
According to a press release, the judges' decision was unanimous.
"The winner achieved with relatively simple means, but still very technically perfect and at the same time demanding ones, a tremendous effect with this landmark gem composition, which also hit the requested competition theme."