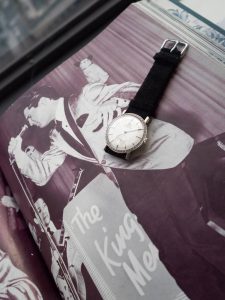 Fans of the King of rock and roll will have a chance to own a piece of musical history this spring. An Omega wristwatch that once belonged to Elvis Presley himself is slated to be sold by Phillips in association with Bacs & Russo at Geneva Watch Auction: SEVEN, which will be held May 12 and 13 in Switzerland.
The watch—originally purchased at Tiffany & Co.—features an 18-karat white gold case and 44 round brilliant diamonds accenting a silver dial. It was originally given to Elvis by RCA Records at a charity event on February 25, 1961, and is intended to commemorate the sale of 75 million records—no small feat, considering Elvis was on a performing hiatus from 1958 to 1960 due to being drafted into the U.S. Army.
An inscription acknowledging the record sales and recording the date appears on the back of the watch. It is to be sold with certificates of authenticity from the Elvis Presley Museum, as well as a book (Elvis by Dave Marsh) that includes photos of the King wearing it. The timepiece was given to its current owner's uncle after he expressed admiration for it and traded his own diamond-studded Hamilton for it.