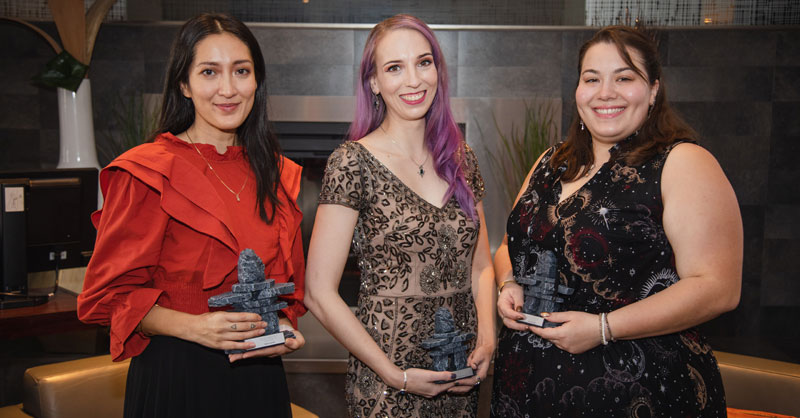 The designs of three Ontario jewellery school graduates have earned international praise at De Beers' 2020-2021 Shining Light Awards (SLA).
Valerie Lamiel and Virginia Muralt, both of Toronto's George Brown College, and Emily Vander Vlugt, an alumna of Georgian College in Barrie, were among 123 emerging jewellery artists to submit designs for the competition under this year's theme of 'The Evolution of Love & Life.'
The trio joined 12 total finalists, representing De Beers Group's diamond producing partner countries of Canada, Botswana, Namibia, and South Africa, for a virtual awards gala on Oct. 28. Judges selected one winning design and two runners-up per country.
Each entry included designs for a full jewellery collection, including a ring, necklace, earrings, and bangle/bracelet. Each collection included a single-carat hero diamond, with all pave or embellishment being 0.05 points or below.
Lamiel took top honours and the prize of a one-year scholarship at Italy's Politecnico di Milano (POLI.design) for 'The Marathon Collection.' The designs, she said, "honour life's long path and our ancestors who paved it by walking before us."
"The cut-out shell motif in my design represents the adaptation of a once-heavy burden, now pierced to reveal the light and the core," she explains. "For the moments in life that we want to mark forever, this collection inspires us to love each step it takes to get there and always to move forward, even if slowly."
Meanwhile, Muralt won the first runner-up award, which includes a 12-month Artisan hands-on jewellery manufacturing training course, for 'The Stardust Collection,' while Vander Vlugt took home the second runner-up honour for 'The Chrysalis Collection,' which includes a three-month internship.
"The Shining Light Award recipients are very much like the rough diamonds we recover that get turned into beautiful gemstones," says Mpumi Zikalala, managing director of De Beers Group-managed operations. "Through the program, we are able to help the winners polish their talent and gain world-class skills to get a foothold in the jewellery design industry."
An international panel of judges representing the four countries was led by POLI.design faculty head, Alba Cappellieri.
"What we are looking for is first and foremost logic, the ability to solve a problem in a reasonable, innovative way, and, above all, commitment, which then translates into a desire to do and learn," she says. "The technical tools can be learned over time, while the rest, the kind of attitude mentioned above, is more difficult."
The host country for the awards gala rotates amongst De Beers Group's diamond producer countries. Next year's will be hosted in South Africa.