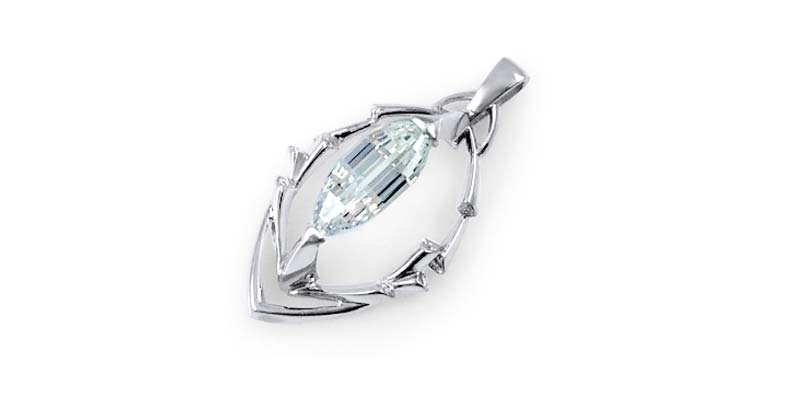 The Esperanza diamond is now the focal point of a custom-designed platinum pendant.
Surrounded by small Canadian diamonds, the 4.605-carat triolette-shape stone is suspended within the pendant, secured only at each point. Fluid shapes and lines of platinum form the base of the pendant and echo Esperanza's cut. The piece was designed by Ian Douglas, creative director of The Inspired Collection, which is based in New Zealand and crafted by jewellers Byard. F. Brogan in Philadelphia.
Originally weighing 8.52-carats, Esperanza will now go on a three-month tour of U.S. jewellery stores, all of them American Gem Society (AGS) members, a reflection of the stone's special association with the organization.
The diamond—one of the largest ever to come out of the ground at Arkansas Crater of Diamonds State Park—was found in late June by Bobbie Oskarson, who was visiting the mine from Colorado. She named it 'Esperanza,' meaning 'hope' in Spanish. The internally flawless, D-colour stone was cut by master cutter Mike Botha of Embee Diamonds in Prince Albert, Sask. It is estimated to be worth more than $500,000 U.S.
"The curves of the Esperanza dictated to a large extent what the final shape would be like," Botha says. Guided by the natural icicle shape of the rough stone, one end of the polished diamond is wider than the other.
Douglas says he's been following the Esperanza story closely and was honoured to be asked to design the pendant.
"It's these kinds of projects, working alongside forward-thinking AGS members, that excite me about designing and crafting jewellery," he says. "Our ethos is the diamond should always be integral to the design, not an afterthought. In the case of Esperanza, it couldn't be any other way. When I design jewellery, I imagine a diamond, floating, unconstrained, revealing its beauty in its entirety. I then design works of art to connect that diamond to the wearer."
Esperanza will be at the following AGS retail locations:
Stanley Jewelers Gemologist, North Little Rock, AR from Dec. 14 to 27
Black Starr & Frost, Newport Beach, Calif. from Jan. 13 to 17
Black Starr & Frost, Phoenix, Ariz., from Jan. 20 to 24
Molina Fine Jewelers, Phoenix, Ariz., from Jan. 27 to 31
Whiteflash, Houston, Texas, from Feb. 3 to 7
Underwood's Jewelers, Jacksonville, Fla., from Feb. 10 to 14
Click here for a closer look at Esperanza.