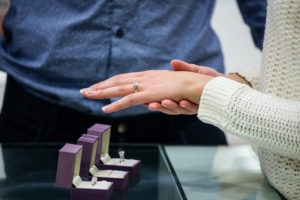 What might be in store for the gems and jewellery industry in the future? This was the question explored at the closing panel of the sixth Gemological Institute of America (GIA) International Gemological Symposium. Titled 'Futurescape Forum,' this session gave six industry experts the chance to discuss difficulties and predictions related to the trade.
The discussion was framed around three challenges outlined by Scott Galloway, a professor at New York University (NYU):
consolidation in all industry sectors;
appealing to talent in a changing workforce; and
disruption from lab-grown diamonds.
Various facets of these topics were discussed by the panel, which comprised:
Overall, the group agreed challenges also bring important opportunities. Kadakia, for instance, pointed out that while 90 per cent of Christie's auctions are live, offering even a small percentage of online sales gives it the chance to draw in a new audience. Many of the panelists' predictions for the future also highlighted the growing impact of the digital world.
"I anticipate a highly enabled digital shopping experience combining online and in-store that will offer a truly value-added service," said Drosos.
When it comes to lab-grown diamonds, the consensus among the speakers was these products are attracting interest, but customers are still exhibiting a preference for mined gems. Cleaver also pointed out the positive impact mined diamonds have on individuals in Africa.
"In time, with less [mined] diamond product, rarity will increase," added Kadakia. "The diamond and jewellery business will only get stronger."
The importance of diversity, collaboration, and innovation were also popular topics.
"The future of our industry is incredibly bright," said Susan Jacques, CEO of GIA, as she closed the forum and symposium. "Disruption is not unique to gems and jewellery, and these new challenges are great opportunities. Embrace innovation and change, for those most able to adapt to changes survive and thrive."
In addition to the panel discussion, this year's symposium also offered attendees the chance to learn about new research and to examine the concepts of authentic leadership, disruptive innovation, and customer centricity through a program offered in collaboration with Harvard Business School (HBS).
The symposium is held every five to seven years. The proceedings of the 2018 edition will be published in the fall issue of GIA's quarterly journal, Gems & Gemology.