Exploring the emerald industry in Colombia
August 7, 2018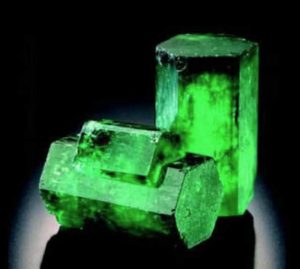 A trade event focused exclusively on emeralds is coming to Colombia this fall. Following its first edition in 2015, the second-ever World Emerald Symposium[2] will be held at the Grand Hyatt Bogotá[3] from October 12 to 14.
The symposium will offer a range of features, from panel discussions, practical training, and mine tours to presentations from more than 60 industry experts. Geology, gemmology, consumer education, corporate social responsibility (CSR), new technologies, and harmonization of colour names are all topics slated to be covered.
The seminars will be delivered by individuals representing organizations such as the Responsible Jewellery Council[4] (RJC) the Organisation for Economic Co-operation and Development[5] (OECD), and the Dubai Multi-commodities Center[6] (DMCC). Gemmological laboratories and major trade associations (such as the International Colored Gemstone Association[7] [ICA] and World Jewellery Confederation[8] [CIBJO]) are also expected to attend.
This international event has so far drawn participants from 25 nations, including eight emerald-producing countries (namely Afghanistan, Brazil, Colombia, Ethiopia, Madagascar, Pakistan, Russia, and Zambia). It is organized by the Colombian Emerald Federation[9] (Fedesmeraldas), along with the country's Emerald Producers Association[10] (APRECOL), Emerald Exporters Association[11] (ACODES), Emerald Dealers Association (Asocoemeral), and Ministry of Mines and Energy[12].
To register, click here[13].
Endnotes:
[Image]: https://www.jewellerybusiness.com/wp-content/uploads/2018/08/Col-emerald.jpg
World Emerald Symposium: http://www.cvent.com/events/ii-world-emerald-symposium/event-summary-cf2c198780814f99852c4b5c8aa88206.aspx
Grand Hyatt Bogotá: https://bogota.grand.hyatt.com/en/hotel/home.html
Responsible Jewellery Council: https://www.responsiblejewellery.com/wp-signup.php?new=responsiblejewellery.com
Organisation for Economic Co-operation and Development: http://www.oecd.org/about/
Dubai Multi-commodities Center: https://www.dmcc.ae/
International Colored Gemstone Association: https://www.gemstone.org/
World Jewellery Confederation: http://www.cibjo.org/
Colombian Emerald Federation: http://fedesmeraldas.com.co/
Emerald Producers Association: https://aprecol.com/
Emerald Exporters Association: http://fedesmeraldas.com.co/acodes/
Ministry of Mines and Energy: https://www.minminas.gov.co/web/ingles
here: http://www.cvent.com/events/ii-world-emerald-symposium/custom-40-cf2c198780814f99852c4b5c8aa88206.aspx
Source URL: https://www.jewellerybusiness.com/news/exploring-the-emerald-industry-in-colombia/
---