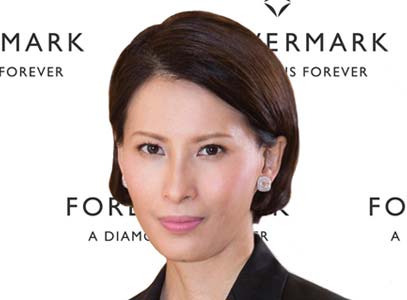 Forevermark has announced a change to its executive team.
Nancy Liu is set to depart from the De Beers Group subsidiary in September after serving as CEO for more than two years. She will be replaced by Céline Assimon, the current head of the De Beers retail chain.
Liu, who has been with De Beers for 13 years, played a key role in the global development of the Forevermark business, the company reports. Notably, she led growth in China, building a new team and helping to establish the brand. Liu went on to become COO before being appointed CEO in 2019.
"Nancy has been instrumental in leading the development of De Beers Forevermark to its position as an internationally-recognized and trusted name for responsibly sourced, beautiful diamond jewellery," says De Beers Group CEO, Bruce Cleaver. "Personally, I have enjoyed learning from and working with Nancy, and all of us at De Beers Group thank Nancy for her outstanding work and we wish her all the best for the next chapter in her career."
Meanwhile, in her expanded capacity, Assimon, who joined De Beers Group as CEO of De Beers Jewellers in September 2020, will continue to report to Stephen Lussier, chair of both jewellery houses.
"Céline has already shown in her time with De Beers that she has a deep passion for diamonds and sustainability, allied to an extremely keen eye for detail and consumer tastes," Cleaver says. "She is the ideal person to lead both our jewellery houses in the exciting next phase of their development as we work to grow consumer desire for De Beers' inspiring diamond jewellery and our commitment to creating a positive lasting legacy for the people and places where our diamonds are discovered."
The change will take effect Sept. 5. Liu will remain with De Beers Group until Sept. 21 to ensure a seamless transition of leadership.