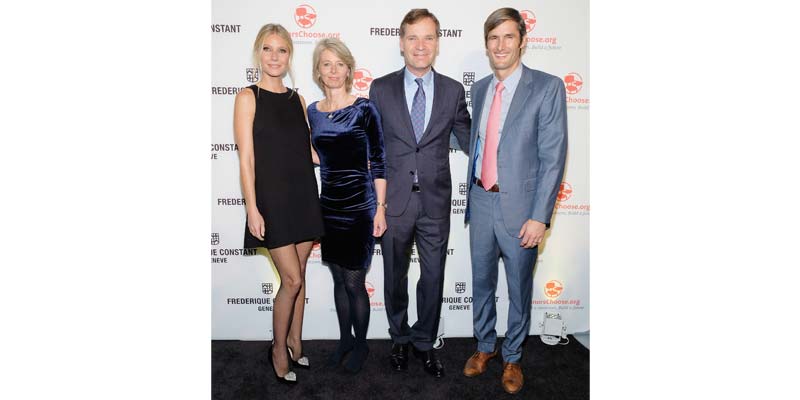 Frederique Constant has donated $50,000 U.S. to DonorsChoose.org to mark the launch of their new Horological Smartwatch for ladies. Frederique Constant's charity brand ambassador, Gwyneth Paltrow, helped mark the launch and donation at two events in New York City on November 2.
"We are very happy to support DonorsChoose.org," said Peter Stas, CEO of Frederique Constant. "Children are our future and we want to give them a chance to develop themselves to their maximum potential. Investment in education is essential for humanity's future and fitness is key to a healthy overall lifestyle."
The company unveiled five new ladies' styles and five redesigned men's styles of their Horological Smartwatch. In addition to the time, the watch face displays, the date, call notifications, sleep monitoring, activity tracking, and text notifications.
Frederique Constant invited students from the DonorsChoose.org program to participate in a fitness class led by Paltrow and celebrity fitness trainer Tracy Anderson. The class included the "1000 step challenge," requiring participants to take 1000 steps in 10 minutes. Paltrow wore the new smartwatch, connected to a large video display, to track her steps. The money donated to DonorsChoose.org will go toward movement and sports programs in public schools. The donation was presented at an evening reception.
"We are so grateful for the support of Frederique Constant and Gwyneth Paltrow, which brings extra attention to the needs that teachers are sharing with DonorsChoose.org," said DonorsChoose.org founder, Charles Best. "With their help, so many more classrooms will have materials to bring learning to life for students across the United States."