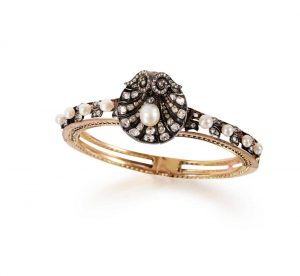 Sotheby's will be taking a trip through France's extensive jewellery history at a new sale this fall. 'Paris Jewels' will bring 19th– and 20th-century French jewellery and watches to the City of Lights on October 11, along with several contemporary pieces.
The sale commemorates the auction house's 50-year anniversary in Paris, as well as its 20th anniversary at the city's Galerie Charpentier.
Leading the auction will be items from the collections of French cultural icons. For instance, jewellery belonging to dancer Zizi Jeanmaire and her husband, choreographer Roland Petit, will be on offer. This collection includes:
a Cartier ladies' watch set with rose-cut diamonds (estimated to sell for $15,115 to $22,677);
a 1920s-era brooch in diamond, platinum, and rock crystal (expected to fetch $6046 to $9069);
a bracelet featuring pearls and rose- and cushion-cut diamonds (anticipated to sell for $3024 to $4536); and
a ring set with a 6.25-carat Ceylon sapphire (with a price estimate of $9069 to $12,089).
Another historic item set to make an appearance is a vermeil, sapphire, and diamond evening bag given to actress and director Mireille Darc by her co-star, Alain Delon, in the 1960s. It is expected to draw $10,583 to $15,117.
In addition to these culturally significant pieces, fine jewellery by other French designers (including Boucheron, Boivin, M. Gérard, Sterlé, Van Cleef & Arpels, and Chaumet) will go under the hammer.
Pieces from the sale will be available for viewing from October 6 to 10, with one day's closure on October 7.