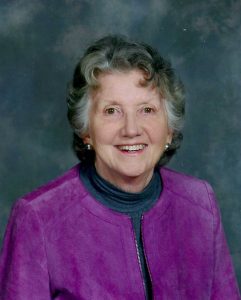 Concluding a lengthy career of teaching in the gems and jewellery industry, Canadian Jewellers Association (CJA)-registered instructor Olive Frame has announced her retirement. Her experience spans a broad variety of roles and responsibilities, from training jewellery retailers through CJA to teaching the association's Jewellery Educational Training System (JETS) Course to Tiffany & Co.'s Toronto staff.
"It took me a very long time to decide to retire," said Frame in an interview with Jewellery Business. "The hardest part was coming to terms with stopping teaching, as it is something that I have really loved doing. But it just seemed that now the time was right."
Frame has taught jewellery professionals not only within Canada, but also internationally—for instance, she taught basic gemmology to 120 staff members when working for Bahamas-based Solomon Brothers. She is also knowledgeable about gem certification and diamond grading, and wrote articles and delivered lectures throughout her career.
When asked what she will miss most about the jewellery industry, Frame said: "Truthfully, it will be all the wonderful people I have come to know and respect in an industry that is honourable and supportive."
Her 35-year career has also carried her through a number of significant industry changes, as technology and other innovations have continued to advance.
"What amazes me is the changes in the enhancements of gems and of course the scientific advancement in producing sophisticated synthetics—in particular, diamonds," she said.
A celebration to honour Frame's career and retirement will be held by the Ontario Chapter of the Gemological Institute of America (GIA) Alumni Association next week. Members of the industry will convene at Le Marche Brookfield Place (42 Yonge St in Toronto) at 6:30 p.m. on November 14. Those wishing to attend must contact giaalumniontario@gmail.com by Friday, November 10, in order to RSVP.
After that, Frame says, the future looks peaceful.
"As I have lived on four different continents, I have been fortunate in my travels," she said. "I will continue to be involved in the community, but perhaps I may finally improve my golf game."
~By Carly Midgley