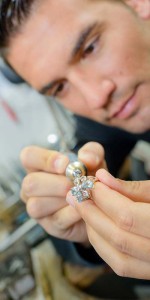 Toronto's George Brown College is launching a jewellery internship program in 2016 and is looking for your support.
Industry placements can be within retail, manufacturing, repair, design, CAD services, gemmological lab, or administration.
Top graduating students will be selected to participate and internships can be either paid or unpaid (remuneration is discretionary). Students must complete 120 hours from January to May.
"There is only so much a school can teach," says Paul McClure, co-ordinator of George Brown's jewellery department. "Real-world experience is invaluable for our students and essential to the health and growth of our industry."
Companies will be matched with students according to the type of skills required. The school will forward candidates' resumes to placement employers, who will be able to interview and select the appropriate student for the position. Postings are now being taken and resumes will be forwarded in January.
What's in it for you? You'll get:
an eager and motivated student looking forward to gaining exposure and experience in the industry;
a new and enthusiastic perspective through the student's eyes;
a pool of potential employees; and
the opportunity to provide George Brown College with feedback on course content and current industry needs and trends.
For more details or to sign up, contact Michelle Walc at mwalc@georgebrown.ca or (416) 415-5000 ext. 6469.