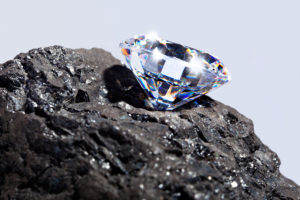 As the Gemological Institute of America (GIA) rolls out a new diamond-tracing program, 'M2M,' Russia-based diamond producer Alrosa has gotten on board.
"We are very pleased to welcome Alrosa to the M2M program," said Tom Moses, executive vice-president and chief laboratory and research officer for GIA. "Dozens of retailers and several manufacturers are signed up, and we continue to engage other diamond producers as part of the initiative."
The system takes the form of a digital platform providing information on each step in a diamond's journey through the value chain. Retailers and consumers can track a gem's history and unique characteristics using a mobile application in combination with traditional grading reports.
"The M2M program is a way to share with the consumer the story of our diamonds," said Sergey Ivanov, CEO of Alrosa. "The creation of tracing systems is an important step in confirming diamond provenance, which will have benefits for industry participants, retailers, and ultimately retail consumers."
The initiative comes as a response to increased consumer interest in the origin of diamonds. With an earlier pilot phase of the M2M program now complete, GIA has used the system to process thousands of rough diamonds between one and more than 100 carats.