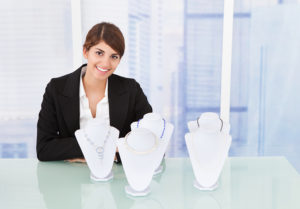 Despite changes to its traditional show venue, this year the Gemological Institute of America (GIA) will continue co-locating its New York Career Fair with JA New York. The fair will also run in tandem with MJSA Expo.
"We are delighted to continue hosting GIA's career fair with the JA New York shows and we're excited to have the opportunity to be part of MJSA Expo as well," said Kathryn Kimmel, senior vice-president and chief marketing officer for GIA. "Our relationship with the JA New York shows is longstanding and holding our career fair in tandem with this important trade event provides our attendees with a unique opportunity to get a sense of the energy and excitement of a national trade show."
While the fair typically runs in conjunction with JA New York Summer, that show's co-location with NY Now means space is limited. As a result, this year's career fair will be held at the Jacob K. Javits Convention Center on March 8, ahead of the JA New York Spring Show and MJSA Expo, which run March 10 to 12.
The organizers of both shows have expressed excitement about GIA's involvement.
"We're thrilled we were able to work with GIA on hosting its event in March. Our organization has an ongoing tradition of supporting new talent in our industry, and our hosting GIA for its annual career fair is an extension of an initiative that is a crucial part of our core values," said Drew Lawsky, show director of JA New York and Premier. "We have always applauded how much GIA gives back and it is an honour to support it in this important endeavour."
"GIA contributes so much to the entire jewellery industry and its annual career fair is a key component in ensuring our industry can continue to thrive," added David W. Cochran, CEO of MJSA. "We're excited to have our expo run alongside JA New York and GIA's fair this spring; there are so many potential synergies that can benefit all three of our organizations."