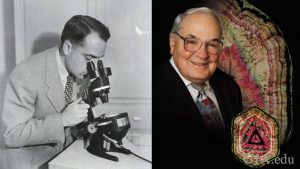 The Gemological Institute of America (GIA) is gearing up for a banner year at its 2018 International Gemological Symposium. Scheduled for October 7 and 8 at the group's World Headquarters in Carlsbad, Calif., the event will provide a platform for attendees and industry experts to not only exchange knowledge and ideas, but also celebrate the centennial of renowned gemmologist Richard T. Liddicoat, who would have turned 100 on March 2 of this year.
"Richard T. Liddicoat was able to connect with so many people—students, colleagues, clients, the public—not only as president of the institute, but also as a mentor, visionary, friend, and brilliant gemmologist," said Susan Jacques, GIA's president and CEO. "Everyone at GIA works every day to carry on his legacy and the mission that he exemplified."
After joining GIA in 1940, Liddicoat helped establish the four Cs and the International Diamond Grading System. In his honour, the Richard T. Liddicoat Centennial Celebration and Gala will be held on October 7, the first day of the symposium, running from 5 to 8:30 p.m.
The symposium carries the theme of 'New Challenges. Creating Opportunities,' and will also feature panels, presentations, and keynote speeches. For more information, click here.