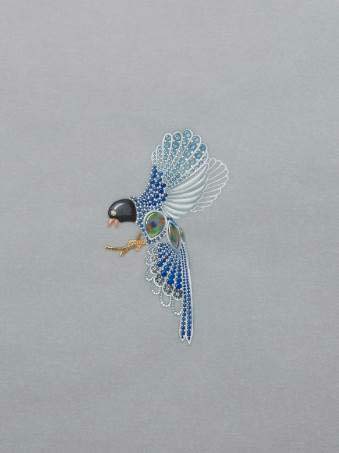 A graduate of the Gemological Institute of America (GIA) has been presented with the second annual Gianmaria Buccellati Foundation Award, recognizing excellence in jewellery design.
Ching-Hui Weng, who studied at the GIA's Taiwan campus, received her design certificate in 2018. Her winning design was a yellow and white gold brooch featuring opals, aquamarine, lapis lazuli, black chalcedony, coral, and white and yellow diamonds.
"My inspiration for this piece is the Urocissa caerulea, a blue bird that represents Taiwan," she said. "The gemstones in this piece illustrate the bird's fierce temperament and flight."
Weng's submission was among 18 finalists, submitted by graduates of seven GIA schools from around the world. The hand-rendered designs were judged by a committee of gem and jewellery experts who specialize in design, manufacturing, and retail.  
"Each year I am blown away by the spectacular pieces our students create," said Elizabeth Brehmer, GIA technical advisor for jewellery manufacturing arts. "Ching-Hui Weng's brooch design is beautiful and demonstrates great technical ability that truly showcases what she learned in the Jewelry Design course at GIA."