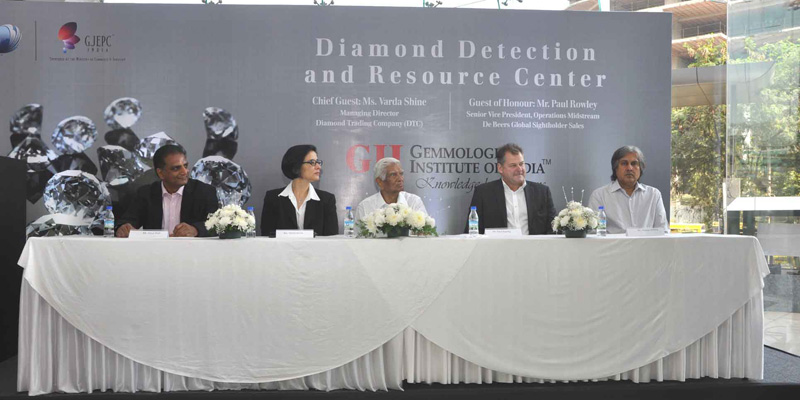 India's diamond industry has responded to growing concerns over undisclosed synthetic melee by opening the Diamond Detection and Resource Centre (DDRC) at Bharat Diamond Bourse.
The centre is a joint venture between Gem & Jewellery Export Promotion Council (GJEPC) and Gemmological Institute of India (GII).
Industry heavyweights gathered in Mumbai for the centre's inauguration, including DTC managing director Varda Shine and Paul Rowley, senior vice-president, operations midstream for De Beers Global Sightholders Sales.
DDRC—which took only four weeks to set up—offers detection services for any submitted parcels, as well as resources for creating awareness about lab-grown diamonds and testing methods.
"The rapid action demanded of the GII was in part driven by the anxiety felt by the trade regarding reports and certain incidences of undisclosed mixing of lab-grown diamonds into diamond parcels," said GJEPC chair, Vipul Shah.
"We are happy GII has [the ability] to identify any synthetic stone with 100 per cent accuracy. We at GJEPC condemn any effort of fudging the difference by mixing of the two products. We reassure the industry we are on the job and will be shortly sending the draft of a declaration that has been worked out with all prominent trade bodies of the world."
Shine hailed the country's swift action on helping to curb the problem of undisclosed synthetics.
"India is taking the next step towards growth and technology that will ensure we have the confidence of consumers in diamonds," she said. "We are bringing all the necessary measures in place and maintaining the integrity of our industry. With the commencement of this detection centre, our consumers are assured of the supply chain. We assure our consumer we will continue to invest in these initiatives and I thank GJEPC and GII for taking such initiative."