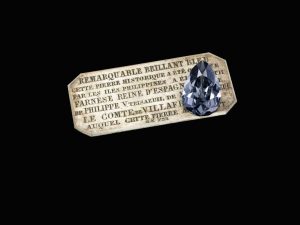 A blue diamond with a particularly lengthy history will be part of Sotheby's Magnificent Jewels and Noble Jewels sale in Geneva on May 15. Named the 'Farnese Blue,' it is to be auctioned for the first time after three centuries in the hands of a European royal family.
This 6.16-carat, pear-shaped gem originates from India's renowned Golconda mines, and was first acquired by the family in 1715. It was a wedding gift to Elisabeth Farnese, then-queen of Spain, from the governor of the Philippine Islands. Over the next 300 years, the diamond was passed down to various descendants of the queen, including Spanish, French, Italian, and Austrian royalty.
The gem is expected to sell for an amount between US$3.7 million and US$5.3 million.
"It is difficult to put into words the excitement of holding between thumb and forefinger a gem discovered centuries ago, knowing it originated in the legendary Golconda diamond mines of India," said David Bennett, chair of Sotheby's international jewellery division. "This stone has witnessed 300 years of European history, and in colour is reminiscent of historic Golconda blue gems such as the Hope Diamond."
The Farnese Blue will be exhibited at Sotheby's Hong Kong next week before going on to tour New York, London, Singapore, Taipei, and Geneva.