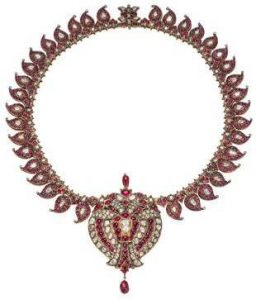 This fall, the Carlsbad, Calif., headquarters of the Gemological Institute of America (GIA) will play host to an exhibition that dives into the global history of the jewellery industry. "Centuries of Opulence: Jewels of India" will run at the headquarters from October 13 through to March, showcasing 50 pieces of jewellery and other luxury objects from 17th– to 20th-century India.
"We are thrilled to be able to exhibit this spectacular historical jewellery," said Terri Ottaway, the GIA museum's curator. "The wealth of gems in each piece gives us a tantalizing look at the lavishness of the royal courts of India from centuries past."
While the exhibition focuses on jewellery from India, it does not overlook the complex history of the stones used in each piece, but acknowledges the byzantine paths they likely took from source to destination. It also touches on the strong cultural significance the gems and jewellery carried throughout the centuries.
"The nobility of India traded diamonds from their famous Golconda region for Colombian emeralds, Burmese rubies, and pearls from the Persian Gulf," said Ottaway. "No mine was too remote to access, no ocean was too wide to cross, in pursuit of the very best gems, for the gems not only conveyed wealth and status, but were also worn as talismans for the protection and enhancement of life. With so much at stake, you begin to understand why wars were won and lost for these treasures."
The exhibit opens in conjunction with GIA's Jewellery Career Fair, where attendees can seek career coaching or take part in 'speed sessions' with prospective employers. More on the career fair is available here.