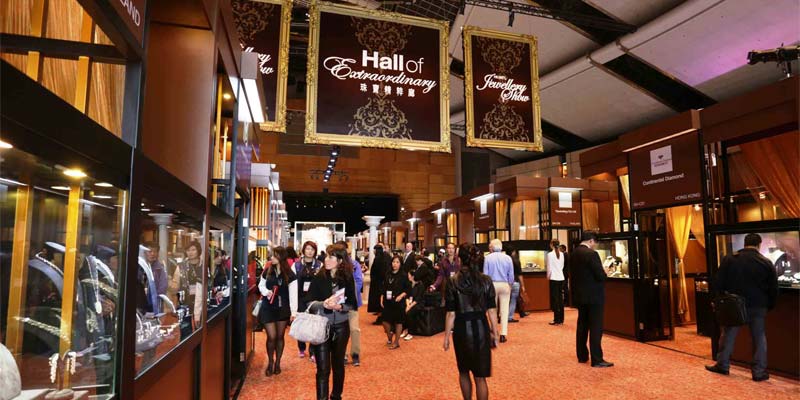 Preparations are underway for the Hong Kong International Jewellery Show and Hong Kong International Diamond, Gem & Pearl Show next March.
Held from March 3 to 7, Hong Kong International Jewellery Show takes place in the Hong Kong Convention and Exhibition Centre, which is located in Wan Chai. The area is known for its dining and entertainment outlets and is well-serviced by all forms of public transport. Hong Kong International Diamond, Gem & Pearl Show runs from March 1 to 5 and is held at the AsiaWorld-Expo. Both shows are organized by Hong Kong Trade Development Council (HKTDC).
The two events are expected to attract more than 4360 exhibitors from 52 countries and regions, and over 76,000 buyers from 140 countries and regions.
To help buyers organize appointments and purchasing, Hong Kong International Jewellery Show is divided into the following zones:
• Hall of Fame, which is devoted to international brand names;
• Hall of Extraordinary, which showcases unique pieces and top-tier fine jewellery collections;
• World of Glamour, housing Hong Kong-based exhibitors;
• Antique and Vintage Jewellery Galleria, which is exclusively for dealers of antique, vintage, and estate jewellery;
• Designer Galleria, which brings together exhibitors offering fashionable contemporary jewellery designs;
• Hall of Jade Jewellery, which highlights Asia's iconic gemstone;
• Hall of Time, offering a dedicated space for manufacturers and agents of branded watches and clocks; and
• Treasures of Craftsmanship, a space devoted to carvings of precious/semi-precious stones, decorative items of gold or silver, precious ornaments, and jewelled accessories.
More than 30 events will be held over the seven days of the two fairs, providing exhibitors with opportunities to promote their products and to meet buyers in social situations. Networking receptions, cocktail parties, and other gatherings allow the chance to renew acquaintances and to make new contacts. In addition, jewellery parades will be held to promote exhibitors' products. Educational seminars will also be offered.
Hong Kong's exports have been increasing over the last few years. After expanding by seven per cent in 2013, exports increased further by 8.4 per cent to $7.8 billion U.S. in 2014. Switzerland, United Arab Emirates, and ASEAN are increasingly important markets for Hong Kong. In 2014, its exports of precious jewellery to these three markets increased 29 per cent, 155 per cent, and 32 per cent, respectively, bringing their total market share from 20.6 per cent in 2013 to 30.2 per cent in 2014.
Click here for more information on the Hong Kong International Jewellery Show. Details on the Hong Kong International Diamond, Gem & Pearl Show can be found here.