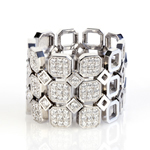 Poor traffic over the holidays lowered same-store sales for Birks & Mayors Inc. by seven per cent.
While U.S. same-store sales fell by 10 per cent, Canadian stores saw a five per cent decline between Nov. 7 and Dec. 4.
"We were disappointed with our holiday sales results," said Birks president and CEO Thomas A. Andruskevich.
"While net sales increased during our fiscal 2008 holiday season, comparable store sales were below our expectations, driven by declines in store traffic patterns that worsened as the holiday season progressed. We continue to operate in a challenging economic environment and will continue to operate the business in a manner consistent with these conditions."
The company reported a net sales increase of 5.7 per cent to $96.8 million for the period, which was fuelled by the opening of two new stores in the United States, two in Canada associated with the Brinkhaus acquisition, and the translation of Canadian sales at higher rates.