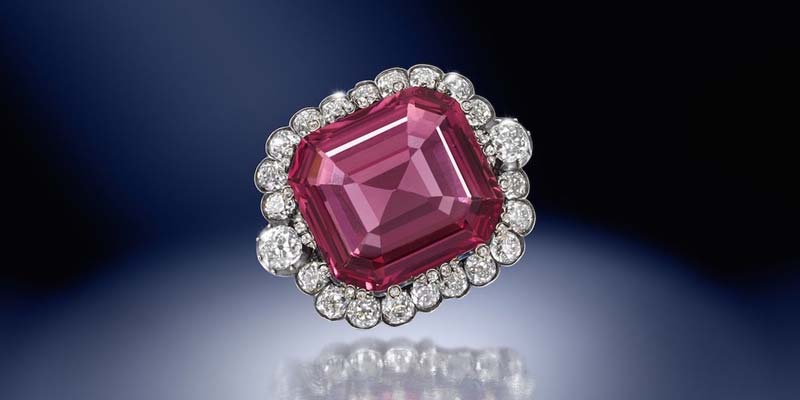 A rare 50.13-carat octagonal-cut spinel has smashed the world-record price for a faceted stone of its kind.
Once part of Henry Philip Hope's gem collection, the 'Hope Spinel' sold for $1.5 million US at Bonhams' London Sept. 24 auction with a per-carat price of $30,000 US. Set in 2013, the previous world-record price per carat for a faceted spinel was $16,000.
The stone was bought by a private telephone bidder. Bidding came from around the world via 18 telephone lines, as well as through Bonhams' website.
The 'Hope Spinel' was part of the London banker's collection until he died in 1839.  Set in a 19th-century silver and gold brooch, the stone is the size of a small plum and of similar colouring with a rose hue. It has not been offered for sale since 1917.
"We are delighted with the price it has made," said Jean Ghika, director of Bonhams Jewellery for the U.K. and Europe. "It was an exceptional gemstone with a priceless provenance; these pieces just don't come to the open market often, and when they do, they are hotly contested. Bonhams is honoured to have been chosen to handle the sale of such a unique and magnificent gem."
The Hope Spinel was assessed by SSEF, a Swiss gemmological laboratory, which has confirmed it is from the ancient Kuh-i-Lal mines in Tajikistan.
"These historic mines are geographically difficult to access and by the 20th century, they weren't used due to political reasons," says Bonhams' Jean Ghika. "Spinels of this size and quality are therefore exceptionally rare, even without the provenance of the Hope Spinel."