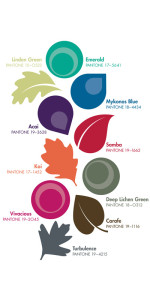 We're barely through winter, but fashion never hibernates, particularly when it comes to the hottest hues of the season.
The experts at the Pantone Color Institute have compiled their top 10 list of colour essentials for fall 2013, giving jewellers insight on what stones and styles will strike a chord with consumers.
Released on the heels of Mercedes-Benz Fashion week, the forecast predicts a fall colour palette that will help take the chill off as the colder months set in, as well as reflect a fashionista's need for variety.
"Just as the leaves change in autumn, the consumer will enjoy the ability to change their 'look' and try a new approach to their wardrobe for brisk days ahead," said Leatrice Eiseman, Pantone's executive director.
"The fall 2013 palette allows for that versatility and experimentation."