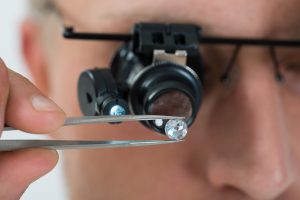 Diamonds may be the key to an advanced and highly secure method of communication, according to new research from Princeton University and the Gemological Institute of America (GIA). The two organizations joined forces to explore how impurities in synthetic diamonds can be used to store and transmit information.
The team believes replacing two carbon atoms with one silicon atom can create colour centres in synthetic diamonds that serve as a medium for quantum communications. GIA's role in the project was to determine these centres' distribution.
"Accurately mapping the colour centres, which occur at low concentrations in uncontrolled samples, was an important aspect of our research," said Nathalie de Leon, assistant professor of electrical engineering at Princeton. "GIA's expertise and specialized equipment for mapping such defects was crucial to the project."
de Leon was the team's lead researcher, working with numerous experts from Princeton as well as GIA research associate Lorne Loudin.
"GIA's decades of scientific inquiry into the fundamental characteristics of natural and synthetic diamonds gave us a unique ability to collaborate with Princeton and Professor de Leon," said Wuyi Wang, the institute's vice-president of research and development. "This is another example of how gemmological research can be applied to different areas of scientific inquiry."
A summary of the research and an abstract of its findings are both available online.