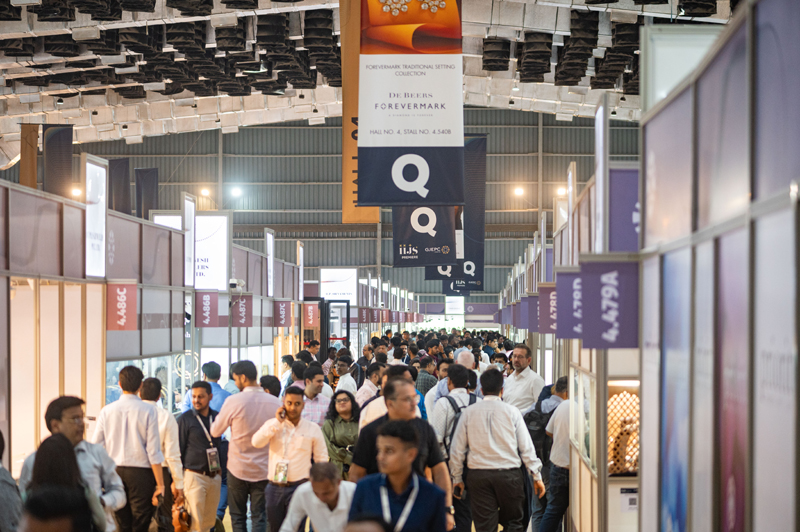 More than 350 buyers from 25 countries gathered in Dubai for the second edition of the International Gem & Jewellery Show (IGJS), organized by the Gem & Jewellery Export Promotion Council (GJEPC) of India.
Hosted Nov. 8 to 10, the show, which is supported by the Indian Ministry of Commerce among others, aims to boost the export of Indian jewellery business, expand jewellers' international retail network, and take advantage of the comprehensive economic partnership agreement (CEPA) between the governments of India and the United Arab Emirates (UAE), which was established earlier this year.
"I am glad to know a large number of top Indian manufacturers are showcasing India-made gems and jewellery products to the global buyers who have come in large numbers," says Sunjay Sudhir, India ambassador to the UAE. "This reflects the spirit of the recently signed India-UAE CEPA, and the importance of Dubai as valuable platform for business and permanence of this show."
The UAE has been a key market for Indian gem and jewellery exports, GJEPC reports, accounting for 14 per cent of its overall exports in this category for the 2021-22 financial year.
"Post the India-UAE CEPA, India's overall gem and jewellery exports to UAE have grown by 12.36 per cent to US$2.9 billion for the period [of] April to September 2022 as compared to the previous year," says the council's chair, Vipul Shah. "The IGJS is a crucial platform for building trade relationships and capitalizing on the trade opportunities provided by CEPA." 
"We welcome every jewellery manufacturer in the world to come and showcase their jewellery and sell it to the global audience," adds Dubai Gold & Jewellery Group vice-chair, Chandu Siroya. "Dubai is the jewellery destination of the world because we have here more than 195 nationalities living here in the UAE. Jewellers here have adapted well, and we cater to every taste in the world. India plays an important role by supplying jewellery to UAE."