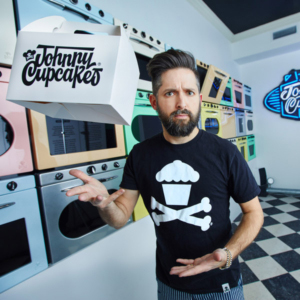 With JCK Las Vegas fast approaching, the industry is abuzz about what can be expected at the much-anticipated event.
Johnny Earle, CEO of "the world's first T-shirt bakery" Johnny Cupcakes, will be featured at the show on June 3 as this year's keynote speaker. Earle's address, "Creating Customer Obsession & Memorable Experiences with Limited Resources," will explore the ways in which retailers and brands can create a wave of word-of-mouth marketing and loyalty around their store or products through experiential branding. Sponsored by Sarine Technologies, the presentation will be hosted Saturday morning instead of the traditional Friday morning timeslot.
In addition to the keynote, JCK Talks returns for 2023 with an increased educational line-up of more than 60 presentations on a range of topics, from retail strategy to trend forecasts, in multi-perspective panels and featured speaker formats. The educational program will open June 1 (one day before the official opening of the JCK show), with multiple presentations held in Venetian rooms 101 and 103 (Level 1). From June 2 to 4, sessions will be held on the Showcase Stage, with topics being covered from 10 a.m. to 6 p.m. daily.
Daily educational tracks include:
Trends
Retail Experiences
Marketing
Sustainability
Diversity, equity, and inclusion (DEI)
Innovation
Hot Topics
JCK Talks will also feature a new track, Industry Breaking News, which will focus on major news presented live at the show for the first time.
Also new this year is the Social Media stage, located at the Innovation Hub (Level 2). Featuring 30-minute sessions hosted by industry influencers and digital marketers, this area is designed to provide attendees with actionable tips and tricks for content creation and social media engagement, with a focus on the importance of standing out on social media.
"Our theme this year is centred around innovation," says Sarin Bachmann, group vice-president, RX Jewelry Group. "We have designed a robust and enriching educational program, including hands-on discovery for JCK attendees to be immersed in the trends and advances in technology that will impact the jewellery industry, as well as learn from and be inspired by thought-leaders delivering relevant information to move businesses forward. JCK is a place to not only do business, but also the place to learn new ways to grow your business."
For a full schedule of events, click here.