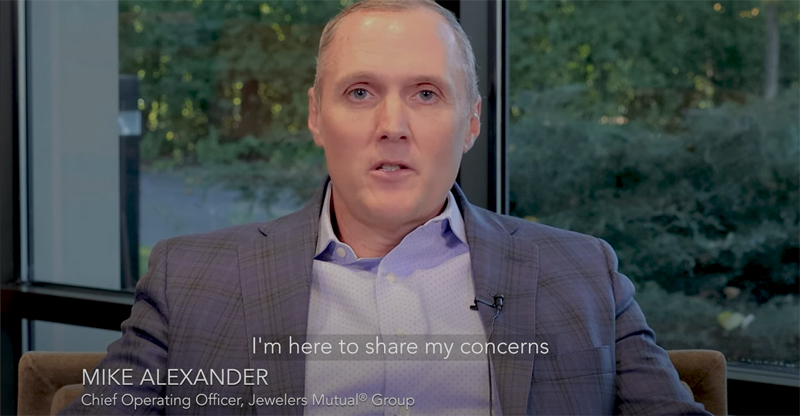 When it comes to confronting the surge of crimes against jewellers in Canada and beyond, there may be power in numbers.
This is the driving force behind Partner for Protection, a new safety-driven movement, spearheaded by Jewelers Mutual Group. The initiative encourages jewellers to take collective action against crime by adhering to high safety and security standards and sharing the necessity for heightened vigilance with fellow members of the jewellery community, as well as the public at large.
Instances of crimes against jewellery businesses have continued to climb in 2022. In some Canadian communities, daytime crime (including armed robberies, smash-and-grabs, and grab-and-runs) has increased more than 300 per cent year over year, according to data derived from Jewelers' Security Alliance and Jewelers Mutual Group.
"What we're seeing are more high-profile, brazen attacks that happen quickly and result in high-dollar losses," says Mike Alexander, chief operating officer at Jewelers Mutual. "The threat is real, and it's affecting the lives and livelihoods of jewellers everywhere. Our industry's future depends on the actions we take today."
Jewelers Mutual is investing in additional loss prevention education, collaborating with security experts, and making enhancements to its Risk Services portfolio to help keep jewellers, their staff, and stores safer and more secure.
By joining the movement to Partner for Protection, jewellers pledge to:
Rethink their security strategy and make safety a top priority for their business
Stay vigilant and follow safety and security best practices
Be a leader in getting the message out to their staff, neighbours, and the jewellery community
For more, click here or check out the address below, courtesy Jewelers Mutual Group.
For additional security tips, see Jewellery Business's archive of Safety & Security columns.