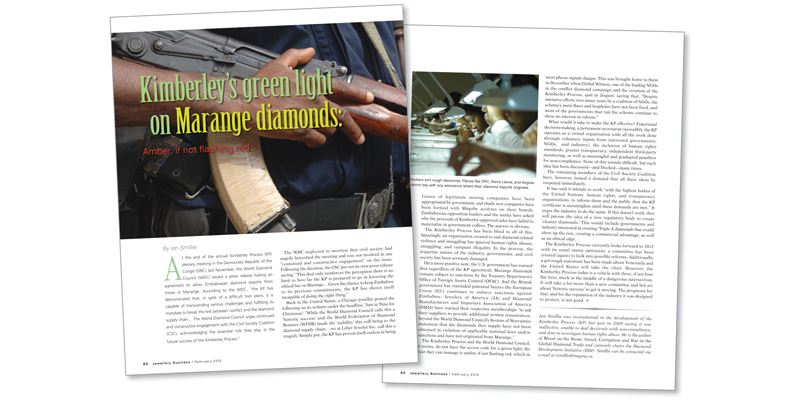 Jewellery Business has been nominated for a 2013 Kenneth R. Wilson Award for its in-depth look at the Kimberley Process.
Written by Ian Smillie, "Kimberley's green light on Marange diamonds" is a finalist in the 'Best Feature Article""Trade' category.
It's the third nomination for Jewellery Business at this esteemed competition.
"We are excited to once again be nominated for a prestigious Kenneth R. Wilson Award, recognizing excellence in the Canadian magazine industry," said JB editorial director, Blair Adams.
"We are committed to editorial excellence and providing our readers with content that is timely, topical, and trusted. To be recognized by our peers is indeed an honour."
Nearly 600 individual entries were submitted nationwide for the 59th annual competition, with judges narrowing the field to 165 nominees from 63 different Canadian business-to-business publications.
Gold, silver, and honourable mentions will be handed out at a gala event in Toronto on June 4.
Click here to read Smillie's article on the difficulties facing the Kimberley Process and the outlook for reform.