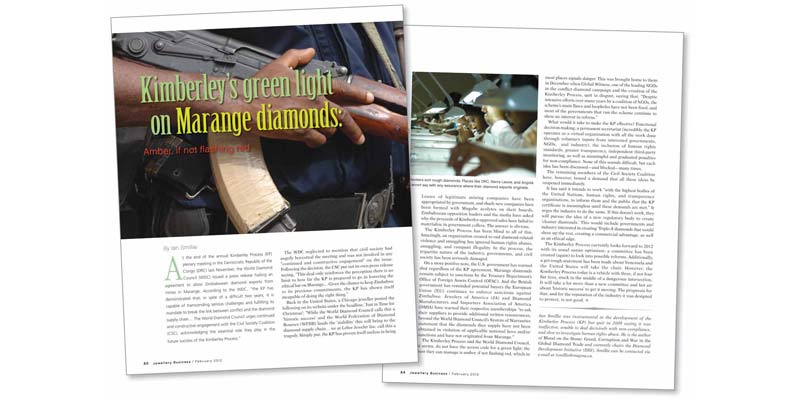 Jewellery Business has won silver at Folio: Magazine's 2012 Eddie Awards for its in-depth look at the Kimberley Process.
The second-place finish came for "Kimberley's green light on Marange diamonds" by Ian Smillie in the 'Business-to-Business, Retail, Single Article' category.
"We are very excited to have captured silver in Folio: Magazine's annual awards competition," said Jewellery Business editorial director, Blair Adams. "This Eddie Award for editorial excellence is our second writing award this year, and I think it is a testament to our commitment to provide Canadian jewellery professionals with timely, topical, and trusted content."
Billed as the largest competition in magazine publishing, the Eddie and Ozzie awards are bestowed to only the best editorial and creative teams. Nearly 2000 entries across 100 categories vie for the gold, silver, and bronze prizes in each category. A panel of more than 300 judges narrowed the number of entries to a list of roughly 400 finalists.
Earlier this year, JB won silver at the Kenneth R. Wilson Awards for bench tips writer Tom Weishaar's six-part series on stone-setting techniques.
Click here to read Smillie's article on the difficulties facing the Kimberley Process and the outlook for reform.