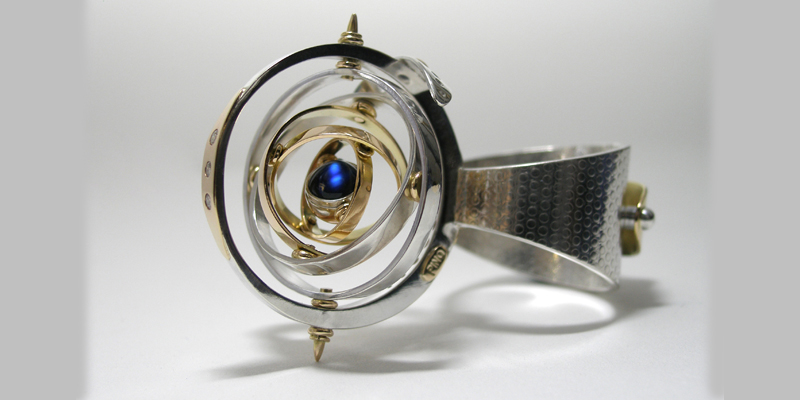 What will Canada be like in 2067?
That's the question posed to jewellery designers participating in the Metal Arts Guild of Canada's 62nd juried exhibition.
Entitled 'MAG 2067—Crafting the future,' the event features conceptualizations of five possible futures in the categories of hollowware, jewellery, sculpture, and visual arts.
This year, judges awarded the 'Best in Show' Steel Trophy honour to Claudio Pino of Montreal for 'Infinities,' a kinetic ring representative of a zero gravity environment on an envisioned Canadian Space Station. A moonstone at its centre represents weightlessness as a drop of water floating in space. The stone pivots 360 degrees in six directions through movable rings.
Judging the exhibition were Sandra Noble Goss, the Steel Trophy winner in 2000, Bob McDonald, host of CBC's "Quirks and Quarks," and Jay Ingram, host of the Discovery Channel's, "Daily Planet."
The exhibition runs until Nov. 19 at the Arta Gallery located in Toronto's Distillery District.
The exhibition's other top honours went to:
• Jackie Anderson of Calgary for 'Best Utilization of Gemstones or Pearls'
• Rosalyn Dohyeon Woo of Toronto for 'Best in Technical Achievement'
• Gillian Batcher of Toronto for 'Most Original Interpretation of the Theme'
• Charles Funnell of Cobourg, Ont., for 'Best Hollowware'
• Shao-Pin Chu of Toronto for 'Best in Design Innovation'
• Honourable mentions went to Mariel Pagliai of Burlington, Ont., and Charles Funnell, of Cobourg, Ont.
Participants in the exhibition also include:
• Lissa Brunet of Toronto
• John Carnes of Toronto
• Alastair Crombie of Toronto
• Sara Cummins of Toronto
• Melanie Davis of Toronto
• Jennea Frischke of Calgary
• Dianne Karg Baron of Oshawa, Ont.
• Tamara Kronis of Toronto
• Ann L. Lumsden of Ottawa
• Ross Morrow of Toronto
• Irine Polyzogopoulos of Toronto
• Andy Pomorski of Picton, Ont.
• Broderick Quinlan of Midland, Ont.
• Brenda Roy of Alliston, Ont.
• Ken Vickerson of Toronto
• Andrea Wenckebach of Barrie, Ont.