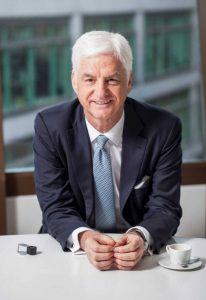 The American Gem Society (AGS) has announced it will grant three awards at its upcoming Circle of Distinction dinner. The honorees will be recognized for their long service to the jewellery industry and their work to help it develop further.
Forevermark CEO Stephen Lussier will receive the Lifetime Achievement Award, while AGS Triple Zero Awards will be given to David A. Bouffard (vice-president, corporate affairs, for Signet Jewelers) and Terry Chandler (CEO of the Diamond Council of America [DCA]).
"The Circle of Distinction is a celebration of excellence in our industry," said Katherine Bodoh, CEO of AGS. "This very special event is an opportunity for our industry leaders to come together to observe the outstanding contributions of the exceptional individuals being honoured."
Scheduled for July 17 at New York City's Plaza Hotel, the event will begin with a 6 p.m. cocktail reception followed by dinner and awards at 7:30 p.m.