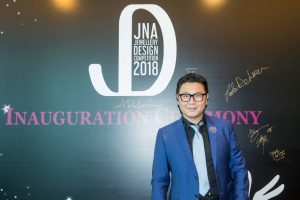 The JNA Jewellery Design Competition has officially kicked off. The contest is organized by UBM Asia's flagship jewellery publication, JNA, and was launched at a seminar at the June edition of the Hong Kong Jewellery & Gem Fair on June 21.
Submissions are invited across three categories (dancing stone, platinum, and Tahitian pearl), each of which features a corresponding theme. 'Fashion tech' is the theme of the dancing stone category. 'Platinum attitude' is the requirement for platinum pieces, while Tahitian pearl entries must demonstrate 'asymmetric perfection.'
"There's no telling the shape of a Tahitian pearl before it's taken out of the oyster. It can be round, oval, drop, button, circled, or baroque," said Rebecca Cheng, chief operation officer of Rio Pearl, in a seminar she delivered at the launch. "Yet, there is beauty in a pearl's asymmetry, where perfection lies not in a full circle but in the character and dynamism fancy shapes bestow on jewellery designs."
The chair of the judging panel is award-winning designer Fei Liu. Adding to the competition's general mission of rewarding exceptional jewellery design incorporating diamond, pearl, and platinum, Liu has said he expects designs that are modern, wearable, and esthetically pleasing.
"Demand for fresh, exciting, and progressive jewellery designs is constantly high. The market perennially seeks design-led, standout, yet commercially viable creations," said Wolfram Diener, senior vice-president of UBM Asia. "The JNA Jewellery Design Competition will help facilitate industry growth by nurturing new and young designers and opening doors for them in the jewellery world."
Emerging and established jewellery designers, as well as students and graduates of jewellery design programs, are welcome to enter. Submissions may be made between October 1 and November 30, with finalists to be announced in January.
More details on the contest will be released via JNA's social media channels and website in the coming months.