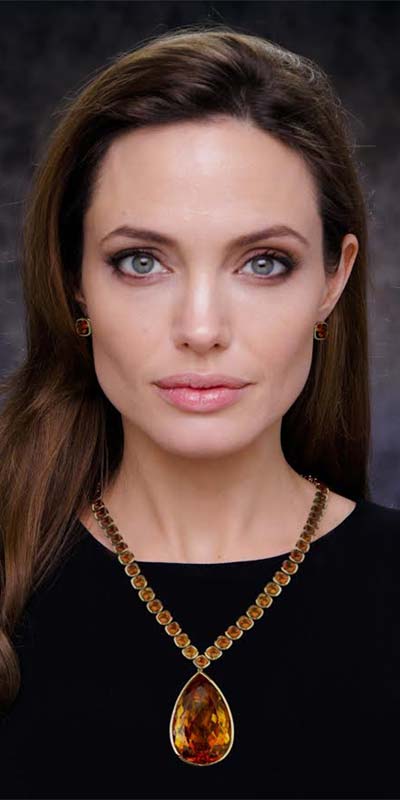 Superstar Angelina Jolie Pitt has gifted a 177.11-carat pear-shape citrine drop necklace to the Smithsonian's National Gem Collection.
Part of the 'Style of Jolie' jewellery collection, the 18-karat yellow gold necklace also features 64 graduated bezel-set cushion-cut citrine gems. The piece is a collaboration between Jolie Pitt and U.S. jewellery designer, Robert Procop.
Named the 'Jolie Citrine Necklace,' it is on display indefinitely in the Janet Annenberg Hall of Geology, Gems and Minerals.
"We are thrilled to receive this important piece for the Smithsonian," said Jeffrey Post, curator of the National Gem Collection. "It is the first piece of citrine jewellery in the collection. The fact it was personally designed by Angelina Jolie Pitt and Robert Procop makes it all the more significant."
The actress developed the 'Style of Jolie' collection to promote education and establish schools in conflict-affected countries. Proceeds from the sales of jewellery in the collection are donated to the Education Partnership for Children in Conflict, which builds schools for children around the world, the first few of which are in Afghanistan.
"Robert and I are honoured to have this great institution feature one of our jewelled creations," Jolie Pitt said. "As the Smithsonian has educated so many of us, this jewel is a symbol of our efforts to help educate underprivileged children in conflict areas of the world."
The National Gem Collection is home to the Hope Diamond and comprises approximately 350,000 mineral specimens and 10,000 gems, making it one of the largest of its kind in the world.
"I am honoured and also humbled to have our citrine necklace placed among the great jewels of the permanent collection of the Smithsonian Institution," Procop said. "From one endeavour, Angelina's creative vision draws two equally impressive outcomes: to transform the finest gems into works of art, and ultimately, improve the lives of many that are in need."
Citrine is a unique variety of quartz, which comes in a wide range of colours due to small amounts of impurity atoms. Coloured by traces of iron, citrine is the golden-yellow to orange variety of quartz. The name comes from the French citron, meaning 'lemon,' in reference to its colour.