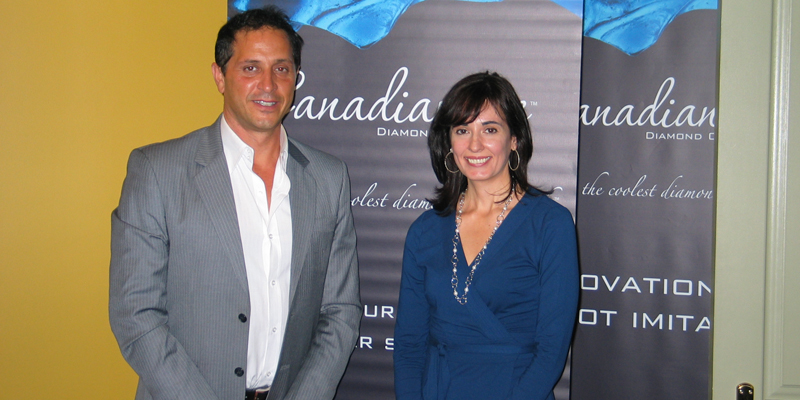 Joseph Shilon is a patient man.
As a diamond cutter, the president of JSN Jewellery is accustomed to meticulously polishing a stone, enticing its facets to reflect light.
His patience also extends to knowing when to take his business in a new direction, which in this case, means opening the doors of Toronto's first official diamond-cutting facility.
It was a step in the company's evolution Shilon knew he would take when the time was right. It also adds a new element to Canada's secondary diamond industry, which in the past, has been difficult to sustain.
"People had different intentions when starting up those facilities," says Shilon, referring to diamond-cutting factories in the Northwest Territories that no longer operate. "For us, the intention is to use this facility to support our customers' needs. It's a completely different approach."
Located at JSN's north-Toronto office, the state-of-the-art factory will see 10 Canadian cutters initially produce 3000 to 4000 carats per month. The goal is to reach 7500 to 10,000 per month.
JSN estimates the facility—which has been a year in the making—will be up and running by February with cutters producing the first finished stones by March. Each diamond—branded under JSN's Canadian Ice label—will be engraved and carry a certificate indicating '100 per cent' made in Canada.
The cutters' nationality was a compromise JSN was not willing to make. They are all Canadian and trained by JSN's master cutters in Chiang Mai, Thailand. "There's no sense in having Canadian pride with foreign nationals doing the cutting," says Steve Reale, JSN Jewellery's director of sales and marketing. "We wanted to make sure we had Canadians cutting Canadian stones in a Canadian facility"¦We want to disprove the theory there are no Canadians who can cut diamonds in Canada."
Although JSN has clients around the world, the diamonds cut at the new facility are for the company's domestic market only.
"This facility is a callback to our customers," Reale says. "It was the one segment of our domestic market that was missing; we wanted to make sure we could provide everything for our customer base. Knowing our customers had to go elsewhere to get 'product of' or '100 per cent' wasn't a good feeling for us."
According to Shilon, the facility will initially produce half-carat stones and bigger. However, plans are in the works to change that. The company is also developing patented technology with its partners in Tel Aviv to cut smaller stones.
"Up until this point, this has just not been viable in Canada," Reale says.
As someone who has been cutting diamonds since the age of 15, Shilon says there is great satisfaction in opening his own facility. So will he be the one to cut the first stone and inaugurate the factory? "Maybe," he says, holding back his excitement.
Stay tuned. There is more to come.