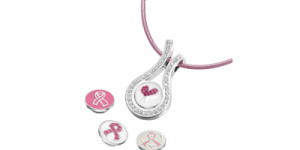 Kameleon Jewelry has donated $6464 to the Susan G. Coleman Foundation and the Canadian Breast Cancer Foundation through its 2012 Poppin' for the Cure campaign.
"We are very proud every year of the work our retailers put in to help promote the Pink Ribbon JewelPops," said Kameleon Jewelry creator and president, Robert Smith.
"Their enthusiasm is what makes this campaign a success year after year. This disease is one that touches so many families—we are happy that we are able to help raise awareness and much-needed funds. Kameleon Jewelry will continue Poppin' for the Cure for many years to come."
The Nova Scotia-based company raised $5056 from the sale of its Pink Ribbon JewelPops collection, up from $3084 in 2011. 
The collection comprises five pieces, including a new stylized pink ribbon heart design.
During the month of October, stores throughout North America participated in the campaign.
Kameleon encouraged its retailers to host in-store Poppin' for the Cure events, and offered stores a preset package of JewelPops, as well as a special Pink Ribbon JewelPop compact case as a gift with purchase.
In addition to sales of the jewellery, Kameleon used its Facebook page to raise funds for the campaign. The company offered to donate $1 for every 'like' it received, raising $1408 in 2012, an increase from $1205 the previous year.