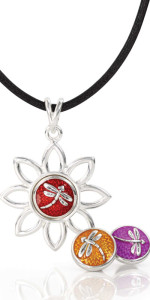 Karen youth living in northern Thailand will soon be on the receiving end of good karma, thanks to Kameleon Jewelry's new series of JewelPops.
The Nova Scotia-based manufacturer is donating $5 to Karen Learning and Education Opportunities (KLEO) for every Karma Pop it sells to a Kameleon retailer. The money is in support of Jen's House, a Thai residence that enables students living in remote villages to complete their middle and high school education in good-quality local schools.
KLEO is a registered charity that helps provide support to young ethnic Karen living in northern Thailand, as well as empowerment through education. In 2012, 25 students lived at Jen's House. The group also works in remote Karen mountain villages, providing humanitarian support such as clothing, eyeglasses, and first aid supplies, as well as assisting where it can in village schools.
"I have been working with Thai jewellery manufacturers for over 20 years and am very excited about JewelPop's new relationship with KLEO and the opportunity to give back to our world community and the amazing people of Thailand," said JewelPop president Bob Smith.
KLEO's Ottawa branch also helps displaced Karen individuals living in refugee camps by facilitating contact with their families already living in Canada. Once in Canada, they can improve their English and Karen language skills through summer school. In addition, a local community farm allows them to put their farming skills to use and work toward starting their own businesses and preparing for citizenship tests.