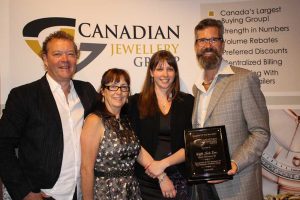 Vancouver-based Keith Jack Jewellery took the title of Supplier of the Year for the second year running at the Canadian Jewellery Group (CJG) show earlier this month. Designer Keith Jack accepted the honour at the President's Banquet on August 12, the closing night of the four-day event.
Keith Jack Jewellery has been a member of CJG for two years, but has been in business in North Vancouver since 2007. The company has 350 dealers across North America, 75 of which are also part of CJG.
Contributions to CJG's charity of choice, Mike's Miracles, were also made during the gala evening. Mike's Miracles works to support Ronald McDonald House, a Canada-wide initiative that offers housing to seriously ill children and their families. At the banquet, Keith Jack Jewellery presented a donation of $4500 to the charity, raised from orders that had been placed at the show.
For the complete lowdown on the CJG show and Canada's other jewellery trade events this summer, keep an eye out for our summer show wrap-up in the October issue of Jewellery Business.