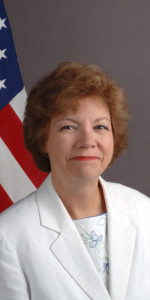 Kimberley Process (KP) chair Gillian Milovanovic is proposing conflict diamonds be redefined to include acts of violence.
 
Speaking at the World Diamond Council (WDC) meeting in Vicenza, Italy, Milovanovic said the definition should be broadened to better reflect the times and concerns in the industry.
The definition has been under the microscope for the last few years over the KP's decision to allow exports from Zimbabwe's controversial Marange fields, where the military moved in and killed 200 illegal diamond diggers in 2008. Currently, the KP limits the scope of the definition to diamonds that fund armed conflict and civil war.
Milovanovic suggested the definition of conflict diamonds be modified to cover "rough diamonds used to finance, or otherwise directly related to armed conflict or other situations of violence."
"I want to emphasize this modified definition will encompass situations already encountered and dealt with in an ad hoc manner by the KP and will include clear guidelines derived from international legal principles that ensure all nations and trading entities know exactly what diamonds must be prevented from entering the supply chain on a mine-by-mine or site-by-site basis. This new definition of conflict diamond would, like the present one, represent a minimum requirement for certification."
The KP is gathering in Washington, D.C. for its intersessional meeting on June 4, where further discussions on updating the definition will take place.
The WDC expressed its support for widening the definition.
"The World Diamond Council was not established to protect the narrow interests of the diamond and jewellery industries in the evolving campaign against conflict diamonds, although it clearly was in our interest that conflict diamonds be eliminated from the face of the earth," said council president Eli Izhakoff.
"The WDC was established to articulate our refusal to allow the product, to which we have dedicated our careers, be used as an agent of suffering and oppression. Under no circumstances should the diamond be associated with collective violence against communities."
Ian Smillie, one of the architects of the KP, called the proposed definition a major step forward.
"The challenge now will be to have this new definition accepted by the wider KP membership," said Smillie, who also serves as chair of Diamond Development Initiative (DDI). "This will require some heavy-duty persuasion by industry members and by the civil society coalition, which I'm sure will endorse it."