By Jacquie De Almeida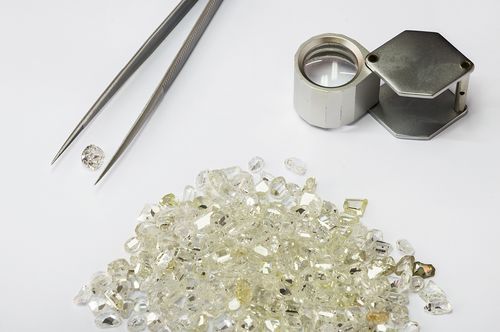 The brewing controversy over undisclosed synthetic diamonds continues to make industry headlines and the Canadian Jewellers Association (CJA) is looking for your feedback.
Following a call from the Diamond Manufacturers and Importers Association of America (DMIA) that international and domestic leaders from industry, law enforcement, and laboratories gather in New York to determine how best to handle the situation, CJA issued a request of its own for comment.
The association had previously warned its members to be aware of the possibility of lab-grown melee being mixed in parcels of natural diamonds, and advised buyers ask their suppliers to include the phrase, "Natural, Untreated Diamonds" on invoices.
"Internationally, [undisclosed lab-grown melee] is becoming a concern," said CJA president and chief executive officer (CEO), J. David Ritter.
"It seems to be becoming more prevalent in India and China. It's difficult for people to be able to detect whether something is synthetic or not because there isn't a testing machine or product at this time that has been approved or proven to be able to be accurate."
Synthetics generally cost 20 to 30 per cent less than natural diamonds, making the practice of peppering parcels very profitable. While large man-made diamonds are marked when they leave the lab, melee are not, and the search for technology to accurately screen parcels for lab-growns continues.
De Beers says it's currently testing its automated melee screening (AMS) machine that it expects to introduce in the first half of 2014, although at this point, it is unclear if it will be sold industry-wide. Currently, only advanced diamond laboratories can determine a natural diamond from a synthetic, but it is cost-prohibitive to test melee. Â 
Ritter says he's hasn't heard of any Canadian companies finding undisclosed synthetic melee. Mel Moss, president of Regal Imports, says the likelihood of that is very small. Instead, peppered parcels are more likely to happen in bigger trading and cutting centres like India.
Although the U.S. Federal Trade Commission requires every lab-grown diamond be disclosed for what it is, there currently is no such regulation in place in Canada, Ritter says.
The only standards regarding stones in Canada are guidelines from Jewellers Vigilance Canada (JVC). However, JVC executive director, Phyllis Richard, says these are not law or regulated by government. "The only other possible law would be the Competition Act regarding misleading advertising," she adds.
While the industry looks for a solution, many are asking that unethical traders be 'named and shamed.'
However, industry analyst Chaim Even-Zohar says that's difficult to do, pointing to an apparent "conspiracy of silence."
"One doesn't point the finger at another in the industry," he told Jewellery Business at the Prospectors & Developers Association of Canada (PDAC) annual conference in Toronto earlier this year. "We've seen it in many cases. People will settle things among themselves. There's too much of a penalty involved by going public. They're good people, but there's an ancient guild—a fraternity. It's not as open as it should be."
Moss says bourses everywhere should adopt a 'name and shame' policy, writing it directly into their constitutions that anyone suspected of selling undisclosed synthetics be identified and prevented from suing the bourse for doing so. If the allegations appear to have merit, the bourse should suspend the member and the police called in to investigate.
Moss says tracking systems for costing purposes make it virtually impossible to accidentally mix synthetics into a parcel of naturals.
"Anybody who is buying synthetic diamonds has a very good means of keeping them separate from their regular inventory," he says. "They don't get mixed. It's too valuable a product not to know when stones get mixed."
Moss—who sells both natural and lab-grown stones, although he doesn't carry any synthetic smalls—says the problem isn't with the synthetic diamond producers, as they wouldn't mix lab-growns with naturals in parcels. Instead, the mixing likely happens at the manufacturer level dealing in natural diamonds and beyond that in the chain.
"The problem is with the natural business and that's where the diamond bourses come in," he says.
Getting the World Diamond Council (WDC) to set some best practices rules is another possibility, Moss suggests. "If there are no consequences and people are doing it, why not continue? They have to have proper penalties for improper actions."
Ritter says CJA has not received any consumer complaints regarding synthetic diamonds. If it does, however, they will be directed to JVC to follow up on.
"If people are selling synthetic diamonds for the same price as naturals, then that's a problem and a concern in the industry," he adds. "It is misrepresentation of selling a product. Can we as an association police the industry? We don't have the resources to do that. Should we be policing ourselves? Yes. It's just good business to ensure that if we're aware something is synthetic that we're not selling it for the same price as a natural diamond."