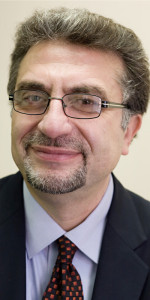 If Erol Paylan ever crossed your path, you would be sure to remember it, along with the question with which he customarily left you to ponder.
The answers, his friends and colleagues say, were destined for a book he was compiling, an interest over the years he turned into a passion and a way of striking up a conversation.
Paylan, first vice-chair of the Canadian Jewellers Association (CJA) board of directors, passed away from an apparent heart attack. He was 52 years old.
"Erol was a larger-than-life individual, who was passionate about family, friends, and his love of the stock market," said CJA president and chief executive officer (CEO) David Ritter. 
"His dedication and contribution to the Canadian jewellery industry will be missed and remembered for many years to come. Erol was a friend and mentor to many people who will remember his compelling questions, boisterous deep voice, and laugh. I was honoured to call him my friend and will miss him very much."
Paylan had been a member of CJA for more than 20 years, a board member since 2009, and a heavyweight in the Canadian jewellery industry since 1984, when he and his brother, Alexander, founded Almer Jewellery.
Although initially wholesalers, the brothers soon broadened the business into manufacturing wedding bands.
When demand for their product grew, they expanded capacity and production. Relocating to Shanghai, China, Alexander built a factory and added engagement rings to the company's offerings.
In 2012, Paylan decided to pursue another passion, entering the financial arena and getting his brokerage licence, a milestone he put to use in helping the association structure its finances.
Past chair Chris Knight said Paylan will be remembered for his positive outlook, and how his curiosity about people inevitably led to a discussion about their views on life and its deeper meaning.
"He would pose questions that would really make you think," said Knight. "He would also be the guy on the board who would ask the tough questions. He had such wonderful integrity. He was always upbeat and really considerate. He was a great support on the board and you knew he was always in your corner. I'm really going to miss him."
Paylan is survived by his wife, Eva, daughter, Mariam, and son Alex Jr., as well as his brother, Alexander, sister, Bagdasar, and their families.