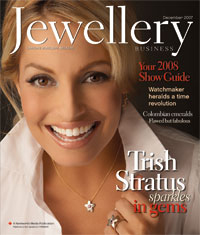 There's no doubt a great cover is one of the driving forces of a successful publication. After all, it's the face of a magazine and helps create a first impression of sorts.
 
That's why it is especially exciting that Jewellery Business' December 2007 issue was voted a top-10 finalist for best cover in the prestigious Kenneth R. Wilson magazine publishing awards.
Featuring former WWE-champ Trish Stratus—one of Canada's top celebrities—this cover closed off a banner year for JB and Kenilworth Media.
"Our Jewellery Business team consistently produces a first-class publication," said JB publisher Ellen Kral.
"We are particularly proud of the work our designers put into this cover. To be recognized by the Canadian trade publication industry in this way is an honour and speaks to the level of our design team's professionalism and creativity.
The Kenneth R. Wilson awards are handed out by the Canadian Business Press, the national association of business publications. Winners will be announced in June.