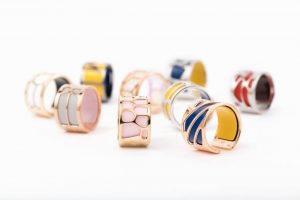 French jewellery brand Les Georgettes has made plans to continue the Canadian expansion it initiated early last year. The company has announced its silver, gold, and rose gold-finished bracelets, rings, and necklaces will be coming to several Hudson's Bay locations this month.
"We are so thrilled to bring Les Georgettes to the Canadian market with such an iconic retailer," said Frederic Brunel, vice-president of distributor Renaissance Luxury Group. "We know Hudson's Bay is the best place for Canadians to experience Les Georgettes."
The brand made its first foray into Canada at the beginning of 2017 with watch and fine jewellery wholesaler Kingsmen. This new initiative means Les Georgettes pieces will be available at Hudson's Bay stores in Toronto, Montréal, and Vancouver, as well as on the retailer's website.
"We are so excited to bring this fresh and innovative product to Canadians at Hudson's Bay," said Leonard Isayev, head of Canadian distribution for Kingsmen.